wHY THE DOMINICAN REPUBLIC?
"The Dominican Republic is the second largest and most diverse Caribbean country, situated just two hours south of Miami, less than four hours from New York and eight hours from most European cities. Known for our warm and hospitable people, Dominican Republic is a destination like no other, featuring astounding nature, intriguing history and rich culture."
The Dominican Republic is a Caribbean nation that shares the island of Hispaniola with Haiti to the west. It's known for its beaches, resorts and golfing. Its terrain comprises rainforest, savannah and highlands, including Pico Duarte, the Caribbean's tallest mountain. Capital city, Santo Domingo, has Spanish landmarks like the Gothic Catedral Primada de América dating back 5 centuries in its Zona Colonial district.
You're heading to the heart of the Caribbean, most geographically diverse country in the region. Occupying the eastern two-thirds of Hispaniola, the Dominican Republic is also the Caribbean's #1 most visited destination. As of 2017, six million travelers descend on our shores every year to bask on our iconic, palm-studded white sand beaches, and relax in our colorful coastal villages.
Cap Cana
Cap Cana is the largest private sector tourism and real estate development in Latin America and the only one in the country where the founding developers are 100% Dominican.
Cap Cana has shown its commitment to contribute to the economic and social growth of the Dominicans by developing a tourism and real estate destination that has positioned itself as a brand, generating more than 16,000 jobs, both direct and indirect, which translates into well-being for all Dominicans.
The Cap Cana destination city has been conceptualized in a master plan of 110 million square meters, with more than 8 kilometers of oceanfront, which has been continuously developed with high quality basic services infrastructure, luxury real estate products, hotel developments and world class amenities. Cap Cana has demonstrated its solid infrastructure and has managed to boost real estate tourism in the Dominican Republic, in addition to its great investment in marketing and its diverse offer have made it a benchmark for luxury tourism in the region.
The Marina
Has more than 150 docks, with capacity for yachts up to 150 feet, and with services of captain and crew. The billfish report ranks its nearby shores as the best in the world for deep-sea fishing and diving. The Marina has been the scene of world-renowned fishing tournaments and has become a popular destination for those who enjoy breaking fishing records.
Gastronomy at Cap Cana
It has a variety of luxury and exclusive restaurants with the best food. We talk about some 36 different types of restaurants, bars and much more… The destination Cap Cana offers inspiring choices of the world's best culinary experiences, from exquisite dining choices to relaxed beach and Marina-side meals. Among them are…
Bohemian: creative tapas, Large wine by the glass selection, Bottles of wine from 9 different countries, the intimate setting perfect for private events and wine tastings; Turia: you'll find our Spanis flavors which come together in the amazing Paellas which are perfumed and colored with the highest grade of natural saffron; Barbudo: come for a meal right after visiting Marina Cap Cana. This restaurant is known for offering Italian and Mediterranean cuisines; Nakamura: located within the Dominic casino, at the Fishing Lodge Plaza, come and discover the best Nikkei cuisine you can find; The Wine Lodge: enjoy a fresh and delicious tapa while having an exquisite glass of wine; Aura: mediterranean cuisine restaurant, with Spanish and Italian influences. We combine the freshness of our products with love and passion for cooking and excellent service. An atmosphere of good vibes and the view towards the beautiful waters of Cap Cana North Marina; Dolce Italia: have a delicious bread freshly baked at Dolce Italia Cap Cana. Trattoria, Bakery and Pizzería Restaurant. All of them at Fhising Lodge.
Mediterraneo: is the most elegant restaurant at Eden Roc at Cap Cana, serving Mediterranean cuisine unlike any other available in Punta Cana, a journey of flavors and ingredients from various cultures blended with local elements and specialties from artisanal suppliers in Europe; La Palapa: it the Eden Roc Beach Club, La Palapa by Eden Roc highlights seafood and sumptuous fare prepared to perfection and served in a relaxed and inviting atmosphere; Blue Grill + Bar: Eden Roc's newest restaurant, Blue Grill + Bar at the Eden Roc Beach Club, is poised to become one of the Dominican Republic's premiere dining destinations for travelers and locals alike.
Juanillo Grill & Beach Club: made for beach lovers, this chill and fun restaurant is exactly what you need on a regular day at the beach.
Maralia: located at the Marina beach, this is a great place to spend a Saturday or Sunday afternoon playing games or getting sun while enjoying delicious food and drinks. The cheeseburgers and "ceviche" are delicious; Soprano: fun, easy, and ticks all the right boxes, Soprano Pizzeria is a new and exciting eatery created to share great food in good company. Located in Cap Cana Marina.
El Rincon de Paco: a traditional Spanish tavern to delight Spain's most famous dishes and tapas; Mama's Forno en Pasta: from old Italy, Fresh pastas and pizza prepared in a wood oven, with the traditional recipes of the Nonna. Located in Santuary Town.
And many more restaurants!!
Punta Espada Golf Course
This challenging par 72 course was ranked as the number one golf course in the Caribbean and Mexico by Golfweek magazine. He also appeared on robb report's best of the best golf course in the orld in May 2007. In addition, Punta Espada has had the honor of hosting the Cap Cana Championship, a PGA Champions tour, on multiple occasions.
Los Establos, Equestrian City
Is the most complete state-of-the-art equestrian centre. It includes a covered track for paso fino competitions. Two world class polo fields designed by the famous alejandro battro, several heating tracks, two jump tracks. All in compliance with the highest international standards.
Los Establos, Equestrian City, is the first project of its kind in the Dominican Republic, which brings together the most varied equestrian disciplines, such as jumping, polo, paso fino, racing, dressage, reining, enduro, cross country, united to their areas of training, training, recreation, health and animal care. It is the largest and most complete equestrian center in the Caribbean and Latin America.
Casa de campo
Is a huge development of about 2,800 hectares, with 280 tourist rooms, 1,200 houses, areas of bars and restaurants, golf courses, a marina, a port and an international airport.
Dominican designer Oscar de la Renta lent his talent to create a unique and welcoming atmosphere.
In a opportunity the country came out winner with Casa de Campo as sports hotel and luxury villas in the world, in addition to the simple fact of having five nominations for the so-called "Oscar of tourism", is a sign of the greatness of the Dominican republic in the tourism industry.
Casa de Campo is a very good option to spend with the family. Privacy, good people, green area and excellent tropical climate, beautiful beaches, golf course, and large luxurious, comfortable and exclusive villas. Casa de Campo, La Romana through us make your vacation perfect.
The Dominican republic has a rich history and Casa de Campo would love to introduce you to it through its excursions and guided Tours. We talk about visits to catalina island, horseback riding, visits to the caves, golf courses and many more…
Gastronomy 
Try Spanish tapas, classic Italian food, freshly made sushi and other international dishes. Casa de Campo offers luxurious and important restaurants for you to enjoy a good meal and have a good time as:
Minitas Beach Club & Restaurant: it is the star restaurant of Casa de Campo. From the Minitas Beach.
La Piazzetta: In an environment reminiscent of a medieval Mediterranean village; Chilango Taqueria: It is a fun and contemporary taqueria located in Altos de Chavon. With a stunning location, overlooking Plaza Chavon and the church, this casual and affordable spot will be perfect for an uncomplicated meal with the authentic and bold flavors of everyone's favorite Mexican street food. At Altos de Chavon.
La Caña: In the heart of Casa de Campo. The restaurant highlights and elevates local ingredients in the context of French-inspired food; Lago Restaurant: discover our luxurious buffet, while enjoying spectacular views of the world-famous Teeth of the Dog and the Caribbean sea. All of them in central aera.
La Casita: floating over the Caribbean sea and amidst the stunning yachts of the marina, la casita is one of the oldest restaurants in Casa de Campo. Its dishes inspired by Spanish food with a focus on fresh local seafood are the perfect complement to this magnificent location. At La Marina
SBG: with an exquisite international menu with a Mediterranean touch; Causa: it offers the possibility to our guests and members of the Casa de Campo community to discover the gastronomy of Peru, one of the most varied and exquisite in the world. All of them from the Port.
Brasa Food Truck and Massa Food Truck.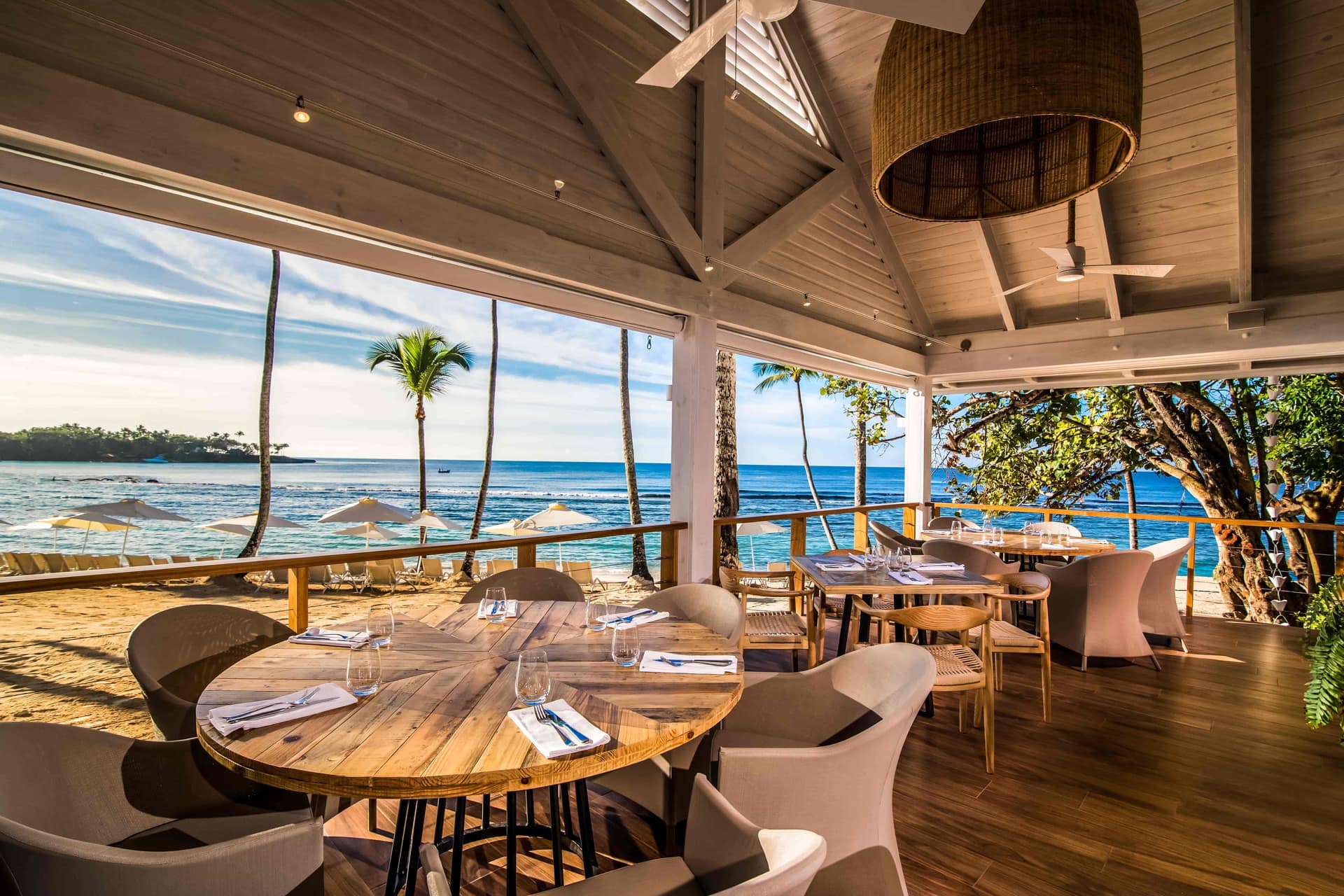 The Marina
One of the jewels of Casa de Campo The Marina inspired by the picturesque villages that dot the Mediterranean coast, is much more than a place to stroll; It is a community for sport fishermen, yacht lovers and freshwater sailors.
The Spa
You can relax in the beautiful natural spa with excellent service.
Polo & Equestrian
Golf Courses
Casa de Campo has 3 important Golf Course:
Ranked #1 Caribbean golf course and #27 in the world. Teeth of the Dog, the golf course that best represents Pete Dye, has a reputation for excellent.
The most impressive views of the Dominican Republic. The unique challenges at the Dye Fore golf course are matched by its subtle historical influences, creating a course that incorporates the past and present into its Dominican landscapes. The design is elegant and mountainous and highlights the bunkers sculpted by Dye.
The Links golf course is a 7000-yard course from the back tees, ideal for golfers of all levels and is the perfect complement to the adjacent Teeth of the Dog. It is also considered one of the most playable fields that Dye designed during his legendary career.
Altos de Chavón
In Casa de Campo you can fine the village of Altos de Chavón, the replica of a 16th century Italian-Spanish village with its cobblestone streets and buildings made of blocks of coral stone and terracotta. This replica was built in 1976 by Roberto Copa ex-designer of Paramount Studios and Charles Bludhorn an American industrialist on a place with a wonderful view of the Chavon River.
The Altos de Chavón Amphitheater was inaugurated on August 20 1982 with the show "Concert for the Americas", with performances by Frank Sinatra, Buddy Rich, Heart and Carlos Santana.
The church of San Estanislao, located in the central plaza of Altos de Chavón, is one of the most photographed monuments of the complex. Despite its antique appearance, it was built only a few years ago in 1979 an a located where many couples both national and international decide to get married.